Our Mission: To inspire joy and enrich our community through choral music.
Our Vision: A community united through choral music.
Our Collective Commitments:
Providing singers of all ages and abilities the opportunity to experience the art of choral singing.
Inspiring our audiences through high-quality performances of a varied repertoire.
Collaborating with other arts organizations in our area to support the efforts of each organization.
Maintaining an organization which is financially viable and responsive to change.
Our Bylaws: Download and read the Chorale's bylaws (last amended 2012)
Overview of the Stockton Chorale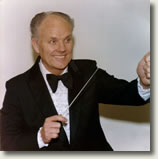 For over 60 years, the Chorale has been an auditioned community chorus based in Stockton California, which is located forty miles south of Sacramento and seventy miles east of the Bay Area. Serving the Central Valley region, it draws singers from as far away as Turlock and the Sierra foothills. Initially started by Arthur J. Holton II as a double quartet in 1951, the Chorale began in 1952 has grown to as large as 190 voices and has expanded to include a range of choral ensembles for all ages and experience levels.
Although originally associated with the University of the Pacific and San Joaquin Delta College, in 1977 the Stockton Chorale Association opened for business as a registered non-profit to support the musical endeavors of the Chorale, and in 1978 the Chorale became an independent dues-based organization.
More about the Chorale's history…
The Chorale regularly collaborates with the Stockton Symphony, the Stockton Opera and the Conservatory of Music at the University of the Pacific. In addition to regular appearances with the Stockton Symphony, the Chorale has also performed with the Bear Valley Orchestra, the Sacramento Symphony, the San Francisco Symphony, the Glendale Symphony and Carmen Dragon, and with the Manhattan Symphony of New York in Carnegie and Avery Fisher Halls.
Chorale members have participated in a variety of international tours, including Great Britain, France, and Austria, a musical tour of Australia and New Zealand, the Salzburg, Austria Music Festival, and a tour of Greece and Italy. The Chorale's concert tour to England and Wales in the summer of 1998 featured an appearance at the Shrewsbury International Music Festival. In 2001 the Chorale toured Germany and Eastern Europe (Prague, Vienna, Budapest); the summer of 2005 saw them visiting Italy including an opportunity to sing at St. Peter's in the Vatican. The 2007 tour took the Chorale to Scotland and Ireland.
A working Board of Directors, consisting of both singers and community members, has the ultimate responsibility for managing the activities and affairs of the Chorale. The President acts as chief executive of the organization and is assisted by five standing committees. Currently, the Board employs a number of part-time positions, including the Artistic Director, business manager, assistant conductor, conductor for the Youth Chorale and the other affiliated choruses, and necessary accompanists. Currently, the Chorale operates with a budget of approximately $100,000.