Sing With Us!
Sing With Us!
Rehearsal Information

Stockton Chorale
Regular rehearsals for the Chorale are Tuesday evenings 7-9:30 pm at San Joaquin Delta College (Holt 213). Fall rehearsals begin in late August and Spring rehearsals in early January.
Master Chorale
Regular rehearsals for the Master Chorale are Monday evenings 7-9:30 pm at San Joaquin Delta College (Holt 213). Fall rehearsals begin in late August and Spring rehearsals in early January.
---
Performance Calendars
Please note: singers are expected to sing in all concerts in a given semester unless prior arrangements have been made with the Artistic Director.

Complete rehearsal and performance calendars will be given out at the first rehearsal of the semester.
Stockton Chorale & Master Chorale
Stockton Chorale rehearsals begin August 22
Master Chorale rehearsals begin August 21
Fall 2017 Performances
 October 14, 15: Duruflé, Requiem
December 2-3: Chorale holiday concerts
December 8-10: Holiday Pops w/Stockton Symphony
Spring 2018 Performances
February 10: Awaken the Dream concert (featuring world premiere of commissioned work)
April 28, 29: Copland, Old American Songs
---
Audition Information
Auditions for the Stockton Chorale and Master Chorale occur at the beginning of each semester.  Each audition will take 15 minutes. All auditions will be held immediately following rehearsal for the ensemble in question.
Returning singers are not required to re-audition.
What the Audition Will Be Like
From Bruce Southard, Artistic Director and conductor:
It will be 15 minutes and an opportunity for both of us to learn.

The objective: I need to hear each singer individually in order to assess our current strengths and weaknesses, and to assist each singer in developing a specific, attainable goals to improve his/her singing. The process is not to cut singers, but merely to hear each singer's skills. This will be a positive experience for all.

Please arrive at least ten minutes before your scheduled audition time, as there are two forms to fill out beforehand.

Please also warm up before you arrive, so you can sing your best and most confident!
New Singers
You will be asked to vocalize, sight-read, do a quick test of your pitch memory, and to sing a short prepared piece (hymn, folksong, art song, etc.) If you wish to be accompanied, bring two copies.  Bring something with which you feel comfortable, and shows the best parts of your singing.
A few suggestions: "Silent Night," "O Come, All Ye Faithful," "O Little Town of Bethlehem," "The Star-Spangled Banner," "America the Beautiful," "Somewhere over the Rainbow," etc.
Master Chorale
You will be asked to vocalize, sing ascending and descending intervals, sing a prepared work (it does not need to be memorized), preferably a solo work in which you demonstrate your musicality, intonation, and expressivity. Simple and polished is preferable to weak and showy!
Please bring two copies of your piece
If you also wish to be considered for the Stockton Chorale, you do not need an additional audition slot
About the Chorale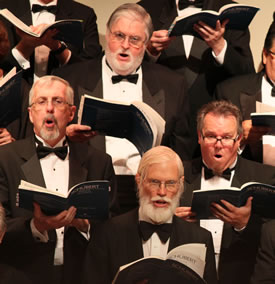 The Stockton Chorale is a mixed chorus composed of men and women aged 18 to 80. The group meets for rehearsals every Tuesday evening beginning around Labor Day in September through concerts and other activities in December. This constitutes the Fall "semester." Starting again the first Tuesday after New Year's Day, we begin the Spring semester rehearsals which last through the concert in May. The semester concludes with the Annual Business Meeting and Awards Banquet. This is the Chorale's yearly season cycle.
Singers are also required to supply their own performance costume – tuxedos (both red and black bow tie/cummerbund combos) for the men, and a specific two-piece for women (available for purchase through the Chorale office).
There are various volunteer time projects, such as stage crew and mailing helpers, as well as committees that work on underwriting, fundraising events, selling tickets, and other means of keeping a non-profit organization like the Chorale going.
The Chorale is a great organization.
Sing with Us!